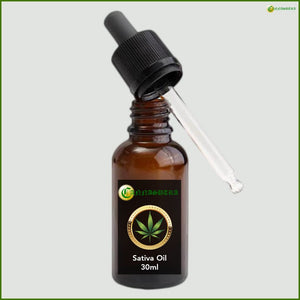 Sativa Oil (Double Strength)
Sativa strain Canna oil.

Suitable for people with high tolerances.

2.5 times stronger than our normal strength oil.

Pipette for easy dosing.
First timers to start of with 5 drops. Increase the dose each day until you have the desired effect.
Typical dose is 1 to 2 ml OR 20 to 40 drops.
Each 1ml is equal to 20 drops.

The major qualities of Sativa strains include:

anti-anxiety
anti-depressant
treats chronic pain
increases focus and creativity
increases serotonin (a neurotransmitter involved in the regulation of learning, mood, sleep, anxiety and appetite)
for day time use

Please note we are not medical professionals. All products on this site must be taken with care. 
Carrier Oil : Extra Virgin Olive Oil.
SUBLIME PRODUCT
Does the job nicely.
Very fast delivery and excellent all round service.