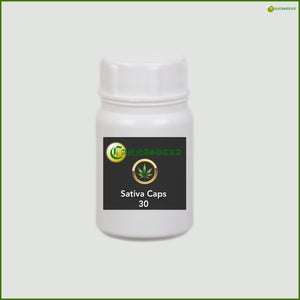 Sativa Capsules (Double Strength)
Suitable for people with high tolerances.

2.5 times stronger than our normal strength capsules.

First time users should rather try our oil as you can regulate the dose more efficiently. 1 Capsule might be too strong for some.

Typical dose is 1 to 2 capsules.

The major qualities of Sativa strains include:

anti-anxiety
anti-depressant
treats chronic pain
increases focus and creativity
increases serotonin (a neurotransmitter involved in the regulation of learning, mood, sleep, anxiety and appetite)
for day time use

Please note we are not medical professionals. All products on this site must be taken with care. 
Carrier Oil : Extra Virgin Olive Oil.
Great product
I have a high tolerance, but 3 capsules work like a charm. Thanks for a good product
Still my goto way to get high...
Easy peasy lemon squeezy, these caps pack a punch so if you are a novice be cautious and perhaps start with the normal strength. Great to travel with no issues no smell you can take em anywhere!
Keep this incredible quality going Cannasutra!
Meh
I cannot recommend these "extra strength" capsules. Taking 4-6 several times a day with practically no effect. I opened a capsule and it's far more oil than THC.
Hi. We are sorry the capsules did not work for you
It seems your tolerance is too high for the oil OR you are resistant to the oil which happens to about 5% of our customers. The double strength oil is tested at 35 to 40 mg THC per ml. You seem to need a lot more than that. Making the oil stronger will have a negative affect on hundreds of out customers.
What can I say...
Drop one, wait a while...
visit the !nooM
Oh, and very easy to carry one or two on your person, for whenever you feel the need.
Holy moly!
Shoooooweeeeee these pack a punch. I have these for medicinal reasons (chronic pain) and will take one when I need it, so not a daily occurrence. Popped one right before bed and woke up 4 or so hours later on another planet. Dry mouth of note! High as a kite. Don't get me wrong, I'm not complaining but be warned, these are strooooong.