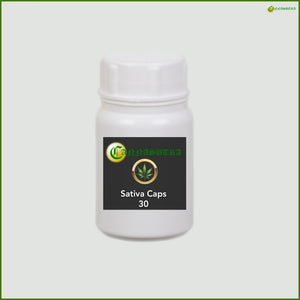 Sativa Capsules (Medium)
Sativa strain Canna Caps.

Suitable for people with low to medium tolerances.

First time users should rather try our oil as you can regulate the dose more efficiently. 1 Capsule might be too strong for some.

Typical dose is 1 to 4 capsules.

The major qualities of Sativa strains include:

anti-anxiety
anti-depressant
treats chronic pain
increases focus and creativity
increases serotonin (a neurotransmitter involved in the regulation of learning, mood, sleep, anxiety and appetite)
for day time use

Please note we are not medical professionals. All products on this site must be taken with care. 
Carrier Oil : Extra Virgin Olive Oil.
Great for anxiety
For someone who has been on other CBD only products for 2 years, this was a great experience. Noticed improvements in my stress and anxiety issues from day 1. No drowsiness and could focus the entire day.
Hi Candice. Thank you so much for the positive review!
Looks Nice
Anyone try this recently?
Good Product
Very good product and fast deliver very satisfied Thank you Cannasutra!!
Hi there. Thank you so much for the positive review!