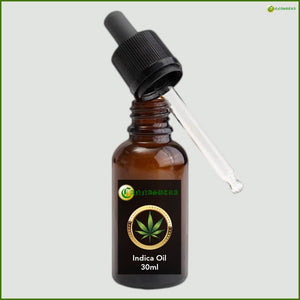 Indica Oil (Medium)
Indica strain Canna oil.

Suitable for people with low to medium tolerances.
Pipette for easy dosing.
First timers to start with 5 drops.
Typical dose is 1 to 4 ml OR 20 to 80 drops.
Each 1ml is equal to 20 drops.

The major qualities of Indica medicinal strains include:

Increased mental relaxation
Muscle relaxation
Decreases nausea
Decreases acute pain
Increases appetite
Increases dopamine (a neurotransmitter that helps control the brain's reward and pleasure centers)
For night time use

Please note we are not medical professionals. All products on this site must be taken with care. 
Carrier Oil : Extra Virgin Olive Oil.
Great Product
Its a great product and does wonders for stress. Would be awesome if you could make a cinnamon flavor or mint? Will sell like hot cakes!
Thank you for the positive feedback. We will certainly consider flavoured oils in the future.
Great medicine
Works well for pain and insomnia. Start low and go slow until you find your right dose.
Great product
It was my first time using it yesterday and I took five drops, after an hour I still felt nothing. Than I took an additional 10 drops. 30 minutes later I was on my own world. Great product
Disappointed ☹️
I got my order yesterday and I was pretty excited. I took about 7 drops initially and then 6 more - 2/3 hours later and felt absolutely nothing .
I don't know if I'm doing something wrong or it's the product
Hi there,
You seem to have a higher tolerance. So it is not the product as it work perfectly for others. When you have a high tolerance you simply have to use more. You can increase your drops upto 20. If 20 is not enough then your tolerance is too high and you need to use the double strength oil.
Just an example of tolerance : It works the same with alcohol. Some people get drunk on 1 beer, others can drink 5 beers and be fine. You are the 5 beer guy.
So in order to get an effect you simply need to use more or try the double strength version
THC Indica Oil
This oil works well for anxiety and insomnia. Would definitely recommend.