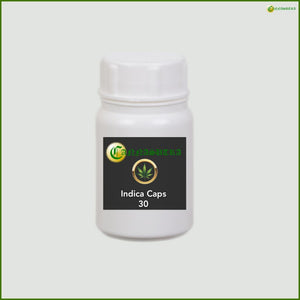 Indica Capsules (Double Strength)
Suitable for people with high tolerances.

2.5 times stronger than our normal strength capsules.

First time users should rather try our oil as you can regulate the dose more efficiently. 1 Capsule might be too strong for some.

Typical dose is 1 to 2 capsules.

The major qualities of Indica medicinal strains include:

Increased mental relaxation
Muscle relaxation
Decreases nausea
Decreases acute pain
Increases appetite
Increases dopamine (a neurotransmitter that helps control the brain's reward and pleasure centers)
For night time use

Please note we are not medical professionals. All products on this site must be taken with care. 
Carrier Oil : Extra Virgin Olive Oil.
An unsolicited opinion :)
When you start using this product medicinally, instead of recreationally, a whole new world opens up to you. I use the medium strength indica, and have seen amazing results with regards to IBS and food intolerances. It took a few months but it was worth it. With this specific product, we have recently found that it really, really helps with pain management for an elderly friend who suffers from osteoarthritis. I bought a bottle for her as a test, and she was so happy that she bought 3 more. I would really recommend this whole range :)
Hi there. Thank you so much for the positive review! Much appreciated!
Meh
I can't really recommend these "extra strength" capsules. Taking 4-6 with the tincture on top and barely touches the surface. Had 10 this morning, hoping something happens.
Indica Double Strength
Pleasantly surprised by the double strength, won't lie they are super strong 😅😅 My wife and I thoroughly enjoyed our Friday evening capsules after a rough week...😃