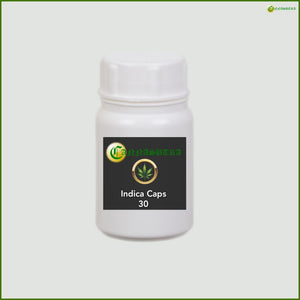 Indica Capsules (Medium)
Indica strain Canna caps.

Suitable for people with low to medium tolerances.

First time users should rather try our oil as you can regulate the dose more efficiently. 1 Capsule might be too strong for some.

Typical dose is 1 to 4 capsules.

The major qualities of Indica medicinal strains include:

Increased mental relaxation
Muscle relaxation
Decreases nausea
Decreases acute pain
Increases appetite
Increases dopamine (a neurotransmitter that helps control the brain's reward and pleasure centers)
For night time use

Please note we are not medical professionals. All products on this site must be taken with care. 
Carrier Oil : Extra Virgin Olive Oil.
This product works wonders
I am used to using the oil tinctures, was working for me. My wife needed convincing. I got the capsules for her, she tried it very sceptical and she now says it seems the capsules is doing it for her insomnia and back pain. She is really grateful for this.
Hi there! Thank you so much for the positive feedback!