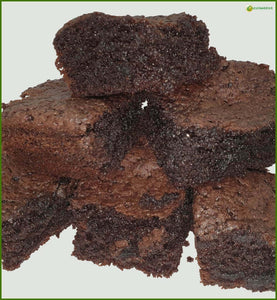 Sativa Brownies (STRONG)
Sativa strain.

2 Canna Brownies per batch.

NOTE : Very Strong. For people with high tolerances.

Brownies are baked with Cannabis infused oil.

All Brownies are baked per order to ensure freshness. Orders received on Thursdays or Fridays will only be sent on the following Monday to prevent the brownies sitting with the courier over the weekend.

The major qualities of Sativa strains include:

anti-anxiety
anti-depressant
treats chronic pain
increases focus and creativity
increases serotonin (a neurotransmitter involved in the regulation of learning, mood, sleep, anxiety and appetite)
for day time use

Please note we are not medical professionals. All products on this site must be taken with care. 
Tasty and delicious
Fresh, tasty and will knock your slippers off! Excellent quality.
Would go so far as to say its the best I've ever had 🙌🏻
Highly recommend⭐️⭐️⭐️⭐️⭐️
Hi there! Thank you very much for the positive review. Greatly appreciated!
Gosh we love these damn brownies!
These have to be our favourite SA brownies and I have to say having tried both they are absolutely on par with the brownies in Amsterdam. We enjoy the Sativa brownies for a on the go day and recently did a massage at a spa on them which was an incredible experience! Keep up the great work Cannsutra, you have a loyal customer in us :)
Hi. Thank you so much for the positive feedback!
Niiiiiiice!!
Not only are these delicious but seriously potent. I'd read the reviews before consuming these so I went with 1/3 to start with. Well, let me tell you, even 1/3 kicked my butt... in a good way. Suuuuuuuuper high. I'd go as far as to say that you could cut these into quarters or smaller depending on your tolerance levels. Highly recommended. 👈🏼 Pun intended.
Brownies review
Brownies were really good and fudgy. The high is really long lasting and strong therefore would advise people to eat half a brownie at a time rather than a full.
Hi. Thank you very much for the positive review!
Brownies
I ordered both the brownies and cookies. These brownies tasted really good, still fresh, and produced a long lasting high.
Overall, I really enjoyed the product and will buy more in future.