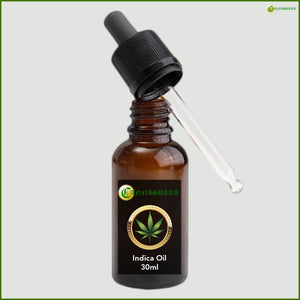 Indica Oil (Double Strength)
Indica strain Canna Oil.

Suitable for people with high tolerances.

2.5 times stronger than our normal strength oil.

Pipette for easy dosing.
First timers to start with 5 drops.
Typical dose is 1 to 2 ml OR 20 to 40 drops.
Each 1ml is equal to 20 drops.

The major qualities of Indica medicinal strains include:

Increased mental relaxation
Muscle relaxation
Decreases nausea
Decreases acute pain
Increases appetite
Increases dopamine (a neurotransmitter that helps control the brain's reward and pleasure centers)
For night time use

Please note we are not medical professionals. All products on this site must be taken with care. 
Carrier Oil : Extra Virgin Olive Oil.
Meh
As per my reviews of the capsules... there is nothing "extra strength" about this product. While marginally more potent than the capsules. I would measure your intake in tablespoons not drops if you would like some indication that the product contains thc.
Hi. We are sorry the capsules did not work for you
It seems your tolerance is too high for the oil OR you are resistant to the oil which happens to about 5% of our customers. The double strength oil is tested at 35 to 40 mg THC per ml. You seem to need a lot more than that. Making the oil stronger will have a negative affect on hundreds of out customers.
Great service & quality product
I know I've already left a review before but I need to give credit where credit is due. Absolutely been loving your products , really helps with my insomnia and anxiety. On top on that the courier service you guys use is so quick ( The Courier Guy) . Delivers from Joburg to Cape Town in ONE DAY ! Incredible.
Keep up the good work Cannasutra ✨
Hi there! Thank you so much for the positive review!
Great product!
Would definitely purchase again