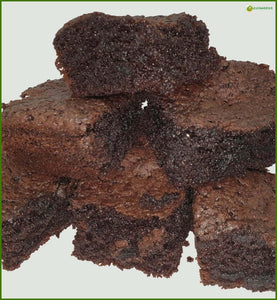 Indica Brownies (STRONG)
2 Canna Brownies per batch.

NOTE : Very Strong! For people with high tolerances.

Brownies are baked with Cannabis infused oil.

All Brownies are baked per order to ensure freshness. Orders received on Thursdays or Fridays will only be sent on the following Monday to prevent the Brownies sitting with the courier over the weekend.

The major qualities of Indica strains include:

Increased mental relaxation
Muscle relaxation
Decreases nausea
Decreases acute pain
Increases appetite
Increases dopamine (a neurotransmitter that helps control the brain's reward and pleasure centers)
For night time use

Please note we are not medical professionals. All products on this site must be taken with care. 
O these are great!
These have to be our favourite SA brownies and I have to say having tried both they are absolutely on par with the brownies in Amsterdam. We enjoy the Indica brownies for those "stay home lockdown" kind of days. I would suggest those not used to edibles start with small doses as these will glue you to the couch! Keep up the great work Cannsutra, you have a loyal customer in us :)
Hi. Thank you so much for the positive feedback!
Super potent!
Take care as these are super potent! Loved it.