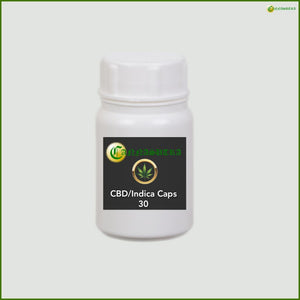 CBD/Indica Capsules
Sativa/Indica Blend.

Pure CBD isolate and Indica blend in a 1:2 ratio.

Suitable for people with high tolerances.
1 Capsule per dose. If required increase dose by 1 capsule each day. 
Its recommended that first timers use our oils instead of the capsules as you can then start of with a lower dose of 5 drops.

The major qualities of CBD strains include:

anti-anxiety
anti-depressant
Inflammation
Nausea
Migraines
treats chronic pain
Assist with sleep
Non-psychoactive

Please note we are not medical professionals. All products on this site must be taken with care. 
Carrier Oil : Extra Virgin Olive Oil.