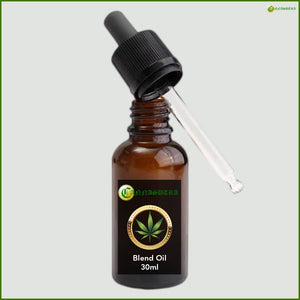 Blend Oil (Sativa/Indica) (Medium)
Contains Indica AND Sativa in a 50/50 ratio.

Suitable for people with low to medium tolerances.
Pipette for easy dosing.
First timers to start of with 5 drops. Increase the dose each day until you have the desired effect.
Typical dose is 1 to 4 ml OR 20 to 80 drops.
Each 1ml is equal to 20 drops.

The major qualities of Sativa strains include:

anti-anxiety
anti-depressant
treats chronic pain
increases focus and creativity
increases serotonin (a neurotransmitter involved in the regulation of learning, mood, sleep, anxiety and appetite)
for day time use

The major qualities of Indica medicinal strains include:

Increased mental relaxation
Muscle relaxation
Decreases nausea
Decreases acute pain
Increases appetite
Increases dopamine (a neurotransmitter that helps control the brain's reward and pleasure centers)
For night time use

Please note we are not medical professionals. All products on this site must be taken with care. 
Carrier Oil : Extra Virgin Olive Oil.
Finally found what Im looking for
I looked for Cannabis products for awhile. This was my first order and I was hesitant to try it as I doubted that I will feel the high. But I am very impressed, I slept so well and my anxiety is under control. I will highly recommend!!
Hi there. Thank you so much for the positive review! You can expect a 15% discount voucher in your email soon!
Happy
This product works really well, once you figure out your tolerance level you'll know how much you need and you are good to go.
In addition to that, I must say the service is awesome as well. I received good product advice, the consultant/team member was knowledgable, and quick to respond.
Would definitely recommend Cannasutra.
Hi Nikita. Thank you so much for the positive review! Greatly appreciated!
Nice with it
Litteraly just threw it in my coffee and enjoyed the rest of my night.