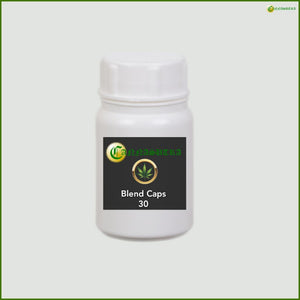 Blend Capsules (Sativa/Indica) (Double Strength)
Contains Indica AND Sativa in a 50/50 ratio.

Suitable for people with high tolerances.

2.5 times stronger than our normal strength capsules.

First time users should rather try our oil as you can regulate the dose more efficiently. 1 Capsule might be too strong for some.

Typical dose is 1 to 2 capsules.

The major qualities of Sativa strains include:

anti-anxiety
anti-depressant
treats chronic pain
increases focus and creativity
increases serotonin (a neurotransmitter involved in the regulation of learning, mood, sleep, anxiety and appetite)
for day time use

The major qualities of Indica medicinal strains include:

Increased mental relaxation
Muscle relaxation
Decreases nausea
Decreases acute pain
Increases appetite
Increases dopamine (a neurotransmitter that helps control the brain's reward and pleasure centers)
For night time use

Please note we are not medical professionals. All products on this site must be taken with care. 
Carrier Oil : Extra Virgin Olive Oil.