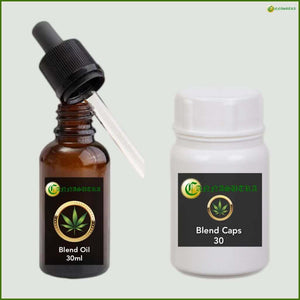 Combo 3 Indica/Sativa Blend (Medium)
Save R60!

Indica/Sativa Blend.

30ml of Canna Oil.

30 Canna caps.


Suitable for people with low to medium tolerances.

First timers to start of with 5 drops or 1 capsule of oil. Increase the dose each day until you have the desired effect.

The major qualities of Indica medicinal strains include:

Increased mental relaxation
Muscle relaxation
Decreases nausea
Decreases acute pain
Increases appetite
Increases dopamine (a neurotransmitter that helps control the brain's reward and pleasure centers)
For night time use
Psychoactive
The major qualities of Sativa strains include:

anti-anxiety
anti-depressant
treats chronic pain
increases focus and creativity
increases serotonin (a neurotransmitter involved in the regulation of learning, mood, sleep, anxiety and appetite)
for day time use
Psychoactive
Please note we are not medical professionals. All products on this site must be taken with care. 
Oil & Capsule combo (Indica/sativa blend)
This product will suit newcomers and first-timers just fine. As an experienced user, the desired effect only came into play after a few doses. If you are new at medicating, this will give you a good indication if it is for you or not.