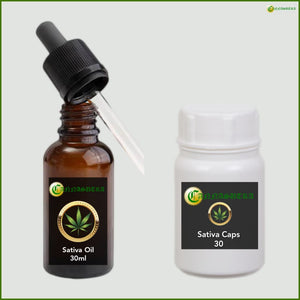 Combo 1 Sativa (Medium)
Save R60!

Sativa strain.

30ml of Canna Oil.

30 Canna caps.

Suitable for people with low to medium tolerances.
First timers to start of with 5 drops or 1 capsule of oil. Increase the dose each day until you have the desired effect.

The major qualities of Sativa strains include:

anti-anxiety
anti-depressant
treats chronic pain
increases focus and creativity
increases serotonin (a neurotransmitter involved in the regulation of learning, mood, sleep, anxiety and appetite)
for day time use
Psychoactive

Please note we are not medical professionals. All products on this site must be taken with care. 
Awesome
You guys won't believe it, same day delivery and R150 off! Thanks guys, great product too!